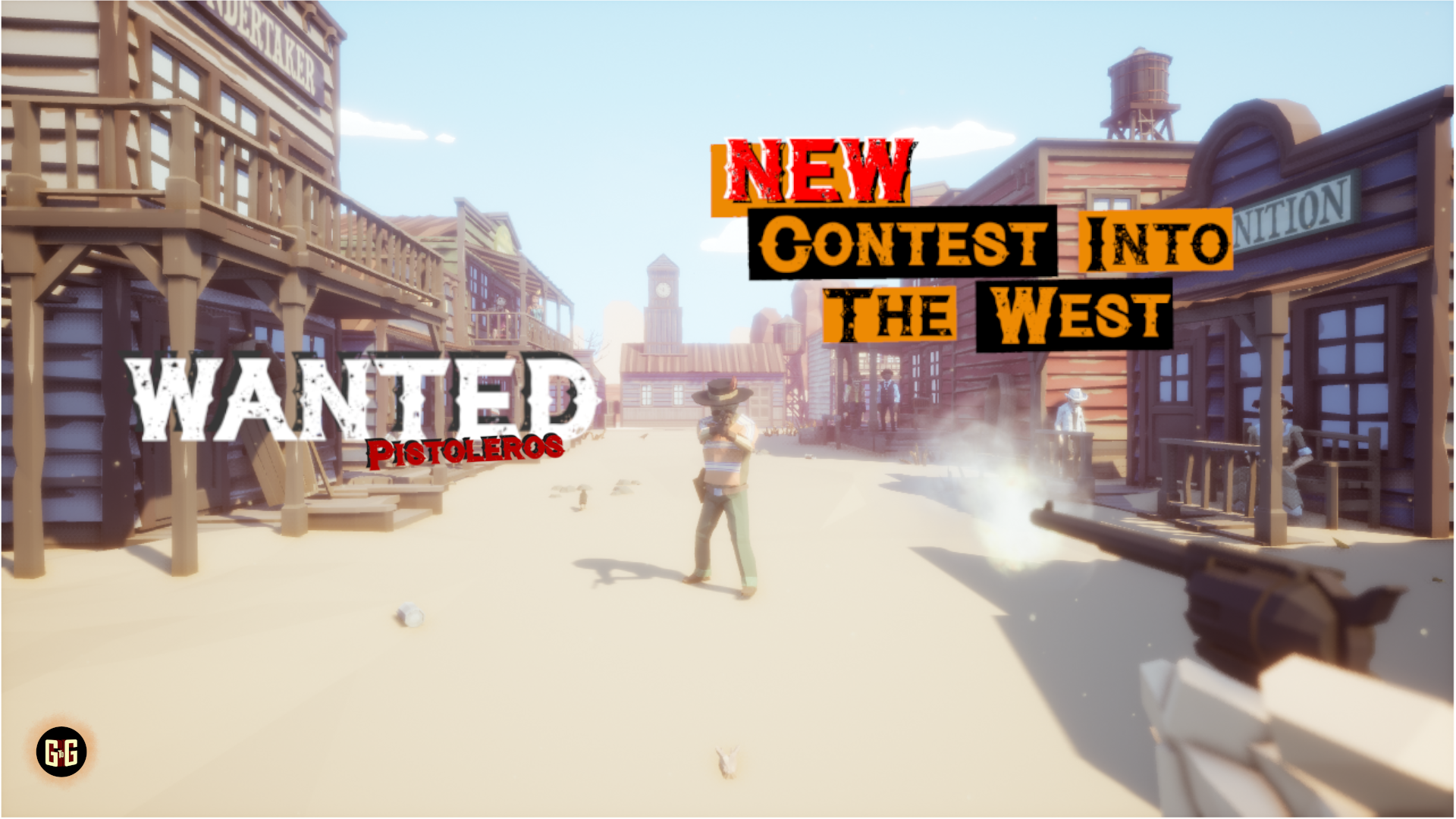 WANTED Pistoleros (Quest 1&2)
A downloadable WANTED Pistoleros for Android
Welcome to the West!!! As the sherif of the city, the locals are counting on you to clean up the town from the Scorpion gang...
Be quick and precise because the members of this horde are not into the business of joking...
Passing all the Gang members, to reach the final boss "Scorpion" will not be an easy task. Along the way, you'll have the choice between earning more bullets, more slowdown or more health... Choose as if your life depended on it.
To make sure you're protecting your life and the lives of your people with the right skills, make a stop to the shooting range to improve your speed and accuracy.
_____________________________________________________
NEW: A CONTEST of SPEED & AGILITY
Try yourself at the shooting range and take the Challenge to beat my score of 1,300 Pts.
Post your Score with a Screenshoot in the link https://www.facebook.com/100065068120369/posts/pfbid0799xL9GXtBirCJwDjqfpC4vnQBT...
and tag your friends to compare your scores.
The Fastest among us will give his Nickname to the
next character of the game.
Purchase
In order to download this WANTED Pistoleros you must purchase it at or above the minimum price of $4.99 USD. You will get access to the following files:
WANTED-Android-Shipping-arm64.apk
264 MB
Comments
Log in with itch.io to leave a comment.
I want to buy it but I don't have PayPal is there other way to buy it?
Hi there, right now only PayPal is set up on Itch.
But maybe we can find another way, can you send me message on my Facebook page please?
Ps I'm in process for Oculus Store
Suggest:
1) add multiplayer duel. That will be funny and will help to sell more.
2)do not allow us to drop the weapon and let it fall to the ground... (unless they shoot us in the hand😉) because the character cannot move and we cannot go looking for pistols that come loose from our hands (volunteers / absent-mindedness / that the battery of the command that he holds runs out 😅)
Multiplayer is DEFINITIVELY the next step... I will show you how quick I am 😉
Thank you for your feedback and support, always good to have both 👍.
PS: Joke aside, I might need to launch a KickStarter project (to achieve all I have in mind for Wanted) :)
heheh Maybe. Here another more idea that I use with each game I can: haptic support. Your game with Vest(for damage) and Arms for recoil and shoot with bhaptics can be awesome 🤩.
Here some tool that they have for developers. I hope can help and enjoy too🤞🙋🏻‍♂️
I add an automatic ReSpawn on your holster now as soon the gun fall on the floor.
i don't like 2 things…
1)In duels it does not detect the position of my hand to take the weapon without taking my eyes off the enemy. It forces me to look at my holster and pick it up, slowing me down.
2)If instead of pressing a button, I try to cock the gun with the other hand to load and fire fast like movies, there is no function for it. And by accident when trying, he took the gun with the other hand and dropped it ... being impossible to catch the gun that has fallen far. This happens in duels and in the shooting gallery. It would be nice to be able to load the gun by moving your hand over it.
Hello,
I understand what you mean but trust me, it detects the position of your hand if you are not looking at the gun (I have done thousands of tests to avoid this very thing) Because I am totally like you, I don't need/want to look at my gun to grip it... It slows me down as you said. I recommend you try again on the training session and believe me, you will see :) it works.
Regarding point #2, I also tried but the top (circle) of the Quest controller mostly hits the other one which damages your Quest controller. So I recommend using the stick down, it really feels like putting the hammer down like in the movie.
By the way, did you read the tutorial in the menu? Because you have something called "GrabForce", when you click on your stick (L/R), a pull force will appear, then aim your weapon and press "Grab" it will come back to your hand immediately.
I hope this helps you
Translated with www.DeepL.com/Translator (free version)
ohh I will. I just open and play faster 😂. Thanks
about 2) A solution to be able to add the movement with another hand to reload, would be for the weapon to have a longer handle (or a larger pistol), so even if you move one handle over another they would not touch). Having the option within the game options increases the fun.😇 Next oculus controller will no have circle😏.
Lots of fun, I recommend!!! Love the way you reload the gun with the stick. Not easy from the 3rd one but with practice and slow motion, I got her!
Hello.
I bought this before, but on the download page the message "Nothing is available for download yet" is displayed.
I can't download anything. Please correct it. Thank you.
Hello,
Thank you for your message, I think I understand what is happening.
Did you buy the version "in developement" at 1.00 USD ?
Because this one is the final version, better graphics, more opponents, a full shooting range, a different gun, etc.
Therefore the price is 4.99 USD for this version. Does it make sense?
That said, could you please send me a private message with the email you used to buy the game, so I can find out more and see what I can do.
Thank you
The problem is I need to buy a purchased app again.
I think "itch.io is a one-time purchase store", "itch users do not have to pay extra, if the app becomes expensive" and "Users can download indefinitely".
So I think, Now that the app has been updated, You have to allow me to download this without additional payment.
As a response, What about "Make the latest version available for download from the development version user's DL page", "email the DL link to users"? Please consider that.
By the way, Where is your email address? I searched but couldn't find it. Thank you.
Here it goes, you might be able to download it now without extra fees!!
In a way, that my way to thank you because you got in a very early stage, and then thank you for the trust.
I was able to download the new version from the purchase page. Thank you.
cool game. Great fun with my pistol 🔫 grips. Lots to do and it looks like more to come. The was a steal for a dollar. I always loved to westerns with the quick draw artists. I friggen loved The Quick and the Dead. Great movie.
I love this actresses.
Thx for the feedback, did you get all enemies without slowmotion? ;)
no not yet I just bought it last night and only had time to play a couple quick games. I'll update you as I play more if you want
Sure, feedback are always good to get.
You can go on my facebook page if you want, this way we can communicate easier. I created a room "GtoG tchat" to talk directly to the gamers for feedbacks and ideas.
https://www.facebook.com/groups/5713733601973721

Anyway thanks for your time Patty.
I recommend this, worth thw money....
Great experience! Thank you
Keep going !